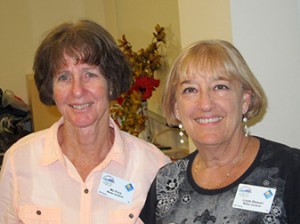 Linda Stewart(R) wanted to be a nurse after reading all of the Cherry Ames nurse books in her childhood. So, off to college she went to become a nurse. She worked as a registered nurse for almost 40 years; most of that time she was doing some form of education for either patients, nursing students, and occasionally, physicians. As she was looking forward to retirement and deciding what to do, it just seemed right to pursue her hobby of gardening. Linda completed the Docent Training Program at San Diego Botanic Garden in June 2008 and retired from nursing in July.
Linda is active in the Docent Program at San Diego Botanic Garden, working at Special Events and she is the current Coordinator of the Docent Training Program. For Master Gardeners, Linda likes to work in the background. She enjoys taking on small organizational projects within the realm of our big educational activities, such as her recent position of Sign Coordinator for the 2014 Spring Seminar.
Mo Price (L) has been a plant enthusiast most of her life; her active involvement in horticulture began shortly after retiring from corporate life in 1999. In 2001, she enrolled in the Docent Training Program at San Diego Botanic Garden, which focused on ornamental plants, including their geographic area of nativity, growing characteristics and their plant families. She soon became interested in Australian native plants and completed a brief internship at the Australian Native Plants Nursery in Ventura County. In 2009, Mo was asked to lecture on Australian Native Plants and has been doing so ever since. Mo enjoys leading tours at San Diego Botanic Garden and volunteers at special events.
Mo has participated in the Arboretum All-Stars Program since she became a MG Trainee. This is a collaboration between UC Davis, Master Gardeners and San Diego Botanic Garden, as she collects plant data monthly at the Garden. She likes to work on projects such as the Spring Seminar and the MG 2014 Training Class.
Advanced Preparation