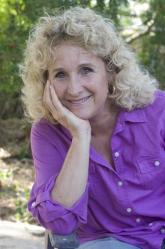 California native Nan Sterman is an award-winning garden communicator, gardening expert, designer, and garden coach who lives in San Diego County, California.
Nan is dedicated to the transformation of planted landscapes from overly thirsty and resource intensive to climate appropriate and sustainable. This has been her goal since the 1970s, when she was involved in the first wave of what we now refer to as the sustainability movement.
Her early training came from non-profits that worked in the arena of organic food and food justice, as well as from the Integral Urban House, a demonstration retrofit Victorian home operated by the Farallones Institute in Berkeley, California.
Nan parlayed those early experiences to address modern day issues. She is author of California Gardener's Guide vol II, the only book about low-water and Mediterranean climate gardens written specifically for California home gardeners. She teaches and writes about sustainable gardening and vegetable gardening, both of which she does in backyards, front yards, and school gardens.
Nan Sterman's latest project is A Growing Passion TV show, which takes viewers into their own backyards to see how to create beautiful, welcoming spaces using plants and products that are achievable, affordable, attractive, and in tune with the natural environment.
Nan is an advisor to the San Diego County Water Authority, sits on the Invasive Plant Committee for the City of Encinitas, and coordinates a 5,000 square foot garden for her children's school. (from GreatGardenSpeakers.com)